Home
New!
MS-II Second Generation Precision Mid Side Matrix
New!
Mastering Transfer Console Input-Gain-Filter-Output
New!
Elliptic Equalizer for Mastering with 12dB/Octave Slopes
Mastering Insert Switcher, Passive, Fully-Balanced, Two Insert with Flip
Phono Transfer System
Precision MS Mid Side Matrix
Dual Class-A II Line Driver and Headphone Amplifier Board
Width Controller Schematics and Construction Information
Elliptic Equalizer for Mastering
Visit the
KA-Electronics
RockmoreLabs Store
Buy JRC and THAT Corporation Audio ICs
Visit The Pro Audio Design Forum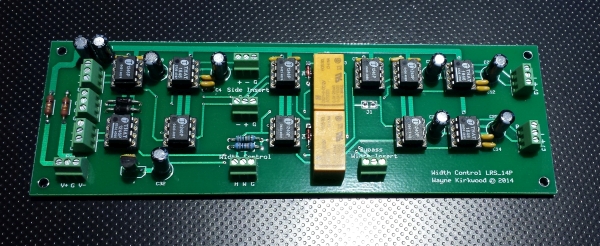 The Stereo Width Controller is Offered as A Bare Circuit Board, PC Board with THAT ICs, or Assembled and Tested Shown Above.

This is the Stereo Width Controller for audio mastering based on the design published in the Pro Audio Design Forum. The Width Controller uses a high accuracy THAT1240 line receivers to perform audio sum and difference functions providing crosstalk performance unobtainable with conventional precision resistors. The Width Controller maintains signal in the Left and Right domains processing only Side to either add or subtract Side information providing adjustment of Stereo Width from 0 to 200%. The final processed signal is fully mono compatible.

THAT1246 line receivers and THAT1646 OutSmarts® line drivers provide fully-balanced I/O for the left, right, and side insert inputs and outputs.

The THAT1240s used in the Stereo Width Controller provides resistor ratio matching performance that is typically >60 dB across the full audio band. A Width bypass relay allows rapid "A-B" comparison. RMAA test results for the LRS-1 Width Controller in circuit and set at 100% for normal stereo. RMAA test results for the LRS-1 Width Controller in bypass.

A relay-bypassed Side Insert permits insertion of dynamics, EQ or an external low-pass filter to make the controller function as a mastering elliptic equalizer.

The discussion thread for the Stereo Width Controller is featured in the Pro Audio Design Forum.

The Stereo Width Controller is sold either as a bare PC board, a "kit" including THAT1240, THAT1246 and THAT1646 ICs, or a fully-assembled and tested module.

For DIY builds a Mouser Electronics Project Manager bill-of-materials is available.

Thank you! Stereo Width Controller clients include: Nils Warren, Paul Gold, Jean-Charles Panizza, McFarlane Audio, Arne Ziemann, Chang Wei Heng, Dan Steinman, Salvatore Iaconis, Jaakko Vitalahde, Carine Verhelst, Herve Keroullas, Mary Jones, Sam Winston, Andreas Koslik, Simon Riat, Bonati Mastering, Kevin Ramsey, Leo Haorty, James Sillitoe, Salvadore Hurtado, Domenic Sabol, Peter Montgomery, Skander Mensi, Steven Glaze, Linh Trac Ngoc, Leon Lothspeich, Joshua Starks, Marcelo Navia, Misjah van der Heiden 24 Mastering, Simon Wood, Christophe Chapelle, Chris Hesse...
In Stock!

Bare PC Board
$29.95 US

Bare PC Board Including THAT ICs for Width Controller
(4 each THAT1240 and 1246, 3 THAT1646.)
$74.95 US

Assembled and Tested Width Controller PC Board Including All ICs
(Shown in photo.)
$199.95 US

Buy it on Etsy

Questions?

Contact us