Home
New!
MS-II Second Generation Precision Mid Side Matrix
New!
Mastering Transfer Console Input-Gain-Filter-Output
New!
Elliptic Equalizer for Mastering with 12dB/Octave Slopes
Phono Transfer System
Precision MS Mid Side Matrix
Stereo Width Controller Board
Dual Class-A II Line Driver and Headphone Amplifier Board
Visit The Pro Audio Design Forum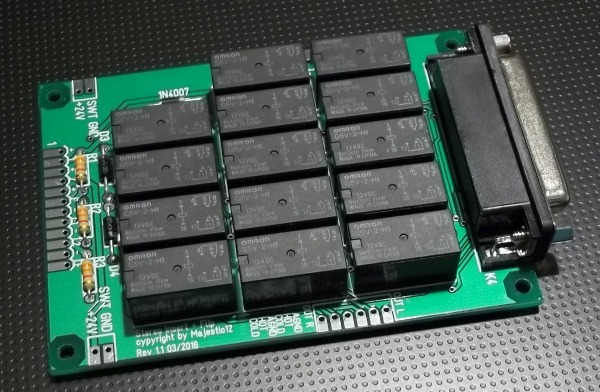 The Insert Switcher is Offered as A Bare Circuit Board or Assembled and Tested Shown Above.

Features

• Full bypass with fully-balanced hot/cold switching. Fully passive.
• Two Inserts with Flip. (14 relays total.)
• PC board can be assembled for single insert or two inserts without flip.
• Ideal for overall Precision MS Board Bypass or MS Insert
• Backbone connection may be split to provide two independent full bypass sections.
• Single Insert uses four relays; Two Insert uses 8 relays.
• Backbone signal flows through the connections on the left to the right.
• Insert connections are on the 25 pin D in a modified Tascam format.
• Normal signal flow is Left/Right In > Insert 1 > Insert 2 > Left/Right Out.
• Flipped signal flow is Left/Right In > Insert 2 > Insert 1 > Left/Right Out.
• Cascadable using additional boards in series for more inserts.
• Current-limited LED tally outputs are available.
• Isolated audio, relay and chassis grounds.
• Series-parallel coil connection to reduce switching currents.
• Coils are 12V, control supply is 24V.
• Approximately 140 mA @ 24V max using high-sensitivity 12V relays.
• Assembled units use sealed low signal current relays.
• Powerable from +/-15V supplies using an external 7824 or LM317 regulator.
• Ideal for MS Matrix Insert/Bypass.

The construction thread for the Insert Switcher including, schematics, bill-of-materials and other information is in the Pro Audio Design Forum.
In Stock!

Bare PC Board
$29.95 US

Assembled and Tested PC Board
$249.95 US

Questions, ready to buy?

Contact us